Fox 2 News in St. Louis Follows One of Our BWS Patients After Tongue Reduction Surgery
Dr. Gage recently performed tongue reduction surgery on a young patient with Beckwith Wiedemann syndrome whose family travelled to St. Louis for his care. A local news station tracked his progress, from his initial office visit through his post-surgical recovery. This story aired on February 18, 2016 and features interviews with the family as well as Dr. Gage and DeAnn Wilson, our experienced nurse practitioner. We are all so pleased to share this happy story to highlight the work we do in caring for children with BWS. You can watch the story by clicking here.
DeAnn Wilson Earns Three Prestigious Nursing Awards!
We are fortunate at Kids Plastic Surgery to have a tremendous nurse practitioner! DeAnn Wilson, PNP, has been with the practice for 11 years.  At KPS, we have long known that she is a compassionate, dedicated, hard working provider who has the unique ability to connect with children and their families. Now, it seems the secret is out!  We are pleased to report that DeAnn has been recognized 3 times this year with prestigious nursing awards for her work in caring for our young patients.  
First, she was selected by St Louis Magazine as a 2015 Nurse of the Year recipient. She was selected from over 200 nominees by an independent panel of experts from some of the nation's most prestigious medical institutions.  You can watch a beautiful tribute video put together by St Louis Magazine by clicking here. DeAnn is the first nurse profiled in the video. The video also features a cameo from Dr. Marsh, recently retired mentor and friend to our practice.
Last month, DeAnn was also awarded the Daisy Award at Mercy Children's Hospital. This award recognizes outstanding nursing care and is particularly meaningful since the nominations are made by patients and families. In the case of DeAnn's award, she was nominated by the family of one of our children with Beckwith Wiedemann Syndrome (BWS) for DeAnn's above-and-beyond efforts to help their child's surgery go smoothly. She continues to be an tremendous resource, particularly for our Beckwith Wiedemann patients and their families, as we continue and build on the legacy our practice has in caring for children with this condition.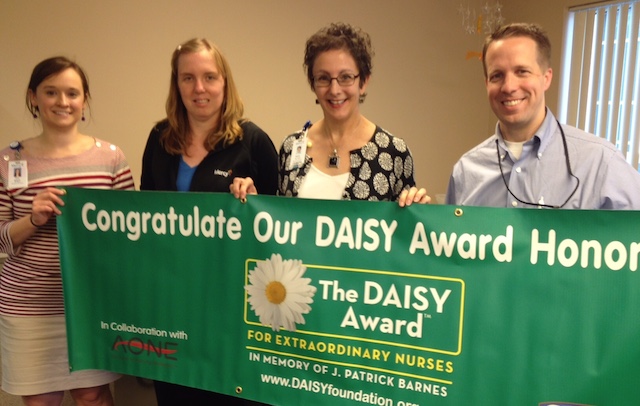 And just this week, DeAnn completed the nursing award equivalent of a "hat trick," receiving the 2015 March of Dimes Nurse of the Year Award here in St Louis!
We are so proud of the hard work DeAnn puts in on behalf of our patients. Her awards are well-deserved, and we congratulate her whole-heartedly. She is an asset to the practice and a tremendous resource for our young patients and their families!