Dr Gage Treats Toddler from Guatemala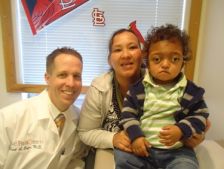 Dr Gage was recently recognized for volunteering his time and surgical skills to care for a toddler from Guatemala with Crouzon syndrome, a rare craniofacial condition affecting growth of the skull and facial bones. His work was highlighted in the spring edition of "Joyful Noise," the Mercy Children's Hospital seasonal newsletter.  Click here to read about the life changing care that Dr. Gage provided this young boy in collaboration with the World Pediatric Project, a St Louis based charitable organization committed to providing medical care to children worldwide.
In addition, the story was recently featured on Fox 2 News in St Louis.  Click here to watch the story and see why we are so excited about the work we are doing at Mercy Children's Hospital!